Continuing his month-long Warriors for Autism benefit event in support of the Autistic Self-Advocacy Network, DesMephisto is hosting March Across Azeroth. Starting around 11 a.m. m. PST on the Wyrmrest Accord (NA) server, the Mental Health Defender will lead new Tier 1 characters on a march from the Deathknell Forsaken starting zone through the Eastern Kingdoms and towards Orgrimmar. There will be giveaways and prizes at all times, so join us in supporting a great cause and changing the way autism is viewed in the gaming community!

The Forsaken is a race that I've identified with a lot over the last 17 years, because it's a story that mirrors mine as an autistic person. Like the Forsaken, we didn't ask to be born this way, but too often we feel abandoned by society: ignored, discarded, and talked about, but not heard. The Horde's coalition of unlikely allies reflects the kind of acceptance those of us with autism have been searching for our entire lives, and this March through Azeroth is a symbolic journey; a small step that represents our desire to be heard as equals.
DesMephisto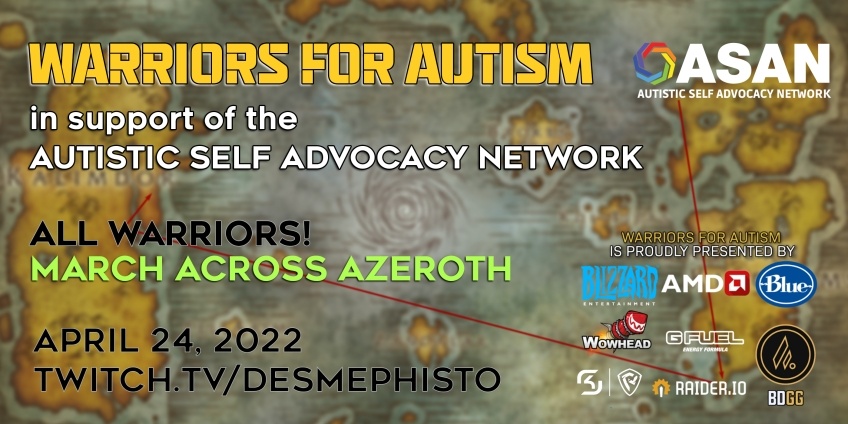 The Forsaken story resonates with DesMephisto's own experience of him as a misunderstood, displaced, autistic person familiar with feeling undesirable and ignored by those who don't understand his plight. Inspired by the annual Running of the Gnomes community event in support of breast cancer, March Across Azeroth calls on the World of Warcraft community to support people with disabilities, walk together as one, and ensure that no one is left behind. behind. . Although he will be representing the Horde, Alliance players are equally welcome, and even EU players can join by creating free starter accounts on the NA server.
For the fourth year in a row, DesMephisto has spearheaded the autism awareness campaign, raising more than $25,000 for the Autistic Self-Advocacy Network, a charity run by autists for autists with a clear motto: no conversation about us without us. Although this month is off to a late start, it's still chock-full of entertaining streamed events, fantastic giveaways, and interesting challenges both in-game and out, from completing Mythic+ dungeons and raids with a team full of Warriors, to infuriating the IRL with Lil! nitro challenge! You can join in on all the fun and action by following us on Twitter, tuning in to twitch.tv/desmephisto, joining the discord server, or donating directly to DesMephisto's Tiltify Campaign for the Autistic Self Advocacy Network.


DesMephisto has become famous for a variety of achievements, such as obtaining Keystone Master with a controller, collecting all plate armor skins and one-handed weapon transmogs in the game, leveling over 60 characters to max level, setting multiple records speed leveling, and being a major contributor to Azeroth Auto Pilot, while also raising thousands of dollars for charities in support of mental health organizations such as the National Alliance on Mental Illness, the Autistic Self Advocacy Network, the Corazón Alegre Foundation and the California Firefighters Foundation. While he's certainly not the only speed leveler in WoW, his dedication to streaming and frequent charity events have garnered a lot of attention on Reddit, Discord, and other online communities, including an interview with PC Gamer and the WoW stream during 36 hours for inclusion in the Guinness Book of World Records. With the release of Shadowlands, he was honored with Fists of Desm, a tribute recognizing all that he has done within the WoW community.

So be sure to watch his stream, show your love for Warcraft, and join in the fun while supporting a great cause!
abril 24, 2022

Categoría:

News
comentarios: 0