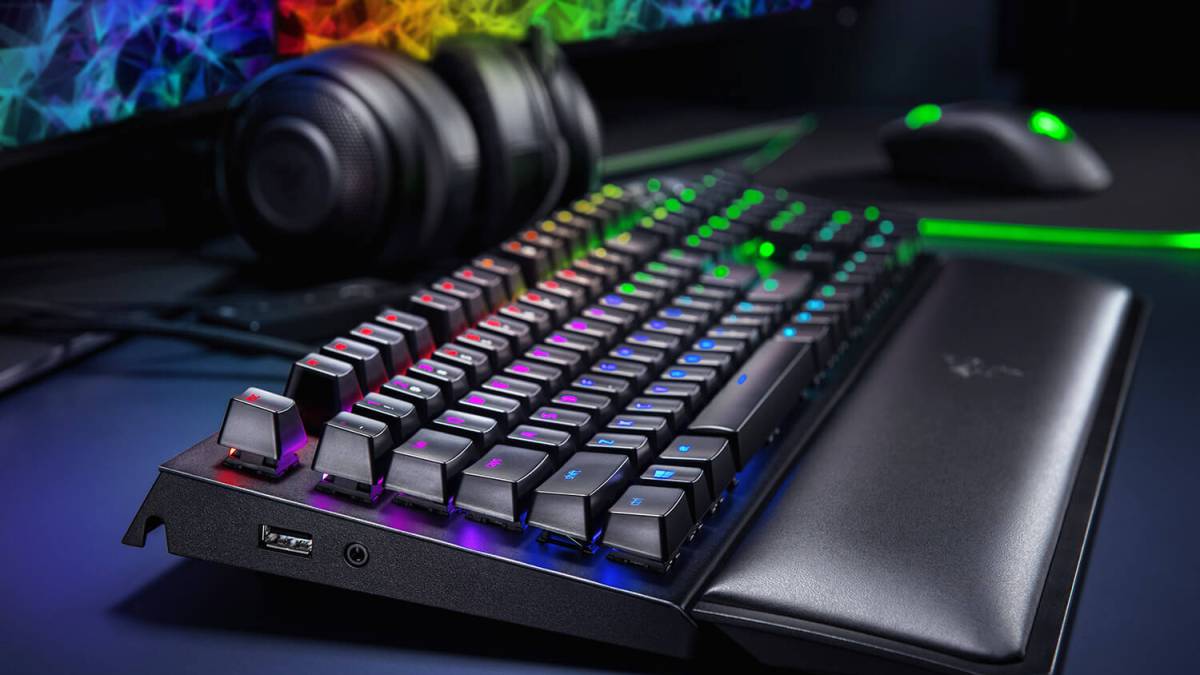 From the lands of California comes the renewed Razer Blackwidow Elite, a keyboard that we put under our hands today with the prior certainty that we are going to love it. There are already several generations that we have been able to test the successful keyboard, keeping the switches compared to the previous generation. Razer Mechanical Switches and the Chroma LED lighting, but adding dedicated media controls as a big news.
Let's see the technical specifications of the Razer Blackwidow Elite:
Razer Blackwidow Elite
Dimensions
448 x 164-232,5 x 42,3 mm (largo, ancho, alto)
Weight
1,422 - 1,673 grams
switches
Razer Mechanical Switches Green / Yellow / Orange
Durability: 80 million keystrokes
Anti-Ghosting Technology 10-Key Rollover
Lightning
Razer Chroma - 16.8 million colors
Independent configuration on each key
Multiple lighting effects
Connection
USB 2.0
USB 2.0 y Audio Pass-Throught
Routable mesh fiber cable
Others
Detachable ergonomic wrist rest
Multimedia controls and multifunction wheel
Razer Synapse 3
On-the-fly macro recording
Before starting the review, we want to thank Razer for giving us the keyboard Razer Blackwidow Elite for your analysis.
Packaging and Accessories
As usual for the brand, the keyboard Razer Blackwidow Elite It arrives in a black and green cardboard box that shows us its design on the front and main features and specifications on the rest of the sides. In addition, a small window allows us to test the touch of your cursors, a detail that can help us decide on your purchase.
Inside, we find the keyboard protected by a cardboard and polystyrene frame, as well as by a plastic cap transparent that we can then use to cover it while we are not using it and protect it from dust.
As accessories, one side includes a user's Guide, a card thanking the purchase Y two stickers with logo Razer, while on the other we find a sensational padded and magnetized wrist rest, an accessory that is sure to significantly improve ergonomics.
Razer Blackwidow Elite
We extract the Razer Blackwidow Elite of all its packaging and we find ourselves before an elegant and elongated keyboard, since it offers dimensions of 448 x 164 x 42,3 mm (length, width, height), which expand to the 232,5 mm wide with the wrist rest placed, being then really big. His weight is around 1,422 - 1,673 grams, well above most models on the market due to a metal chassis that gives it great strength and poise on the table.
The key scheme is the traditional one, with extra functions serigraphed on the F9-F12 keys, although we can configure them all as we please from the software Synapse 3.
The great novelty of this model lies in the upper right corner, where we find 3 media keys for music playback and a multifunction wheel which enables control the volumeturning it and mute it completely pressing it.
But what really makes it cool Razer Blackwidow Elite are the switches Razer Mechanical Switches Green / Yellow / Orange, created by the brand itself thinking of the players. They offer durability up to 80 million keystrokes and LED lighting in 16.8 million colored with individual settings for each key, in addition to effects predefined. That is, while the Green they have small click on their way and they are somewhat noisy, the Orange they don't have it and they are silent, being the Yellow linear and silent. Note what they offer 10-Key Rollover anti-ghosting technology, that is, we can press until 10 keys simultaneously and the system must recognize them.
We place the wrist rest to check how the dimensions of the keyboard grow remarkably, but it is always a good detail to have it and in this case it could not be more comfortable with its padded interior.
Another of the new details is on the left side, where we find a port USB and a jack TRRS that act as a bridge for both connections from the PC.
From the back part a thick meshed cable which is later divided into the 3 necessary ones, since the USB 2.0 connection to the PC itself joins the two bridges.
A last look at the base shows us the two small lifting feet and the rubber bands that allow a firm grip on the table.
Tests
We connect the Razer Blackwidow Elite to our team and we see how all its keys acquire a soft LED lighting that changes little by little over time through different colors (Spectrum Cycle mode), although from the software Synapse 3 We can configure the one we want.
At this very moment, a auto installer of the software itself, so we don't even need to access the official website to download it. Of course, it must be downloaded and we will have to count/create a user account to use it.
the main tab, Personalize, allows us to give each key the function that we want, as well as predefined functions Y macros that we create at our free will.
The eyelash Lightning allows the configuration of predefined effects or create our own with a powerful editor that we see below.
But it's time to focus on the experience of using the keyboard Razer Blackwidow Elite, it will be to write on its keys or play. For the first thing, to say that it is a real pleasure to use the switches Razer Green, because they have the characteristic touch of a mechanical keyboard, although its sound and touch is slightly different than we are used to on other keyboard types. They have a sound more similar to that of a typewriter, though much smoother, and with a very nice touch by pressing them. Shows excellent both in games, with a fast and precise activation, like in writing.
While, in games, are fast activation allows you to execute any action without any delay, while the possibility of create macros and associate them to 5 profiles they make it very adaptable to the chosen title.
On the other hand, technology Anti-Ghosting It works perfectly, or at least that's what we have been able to appreciate playing and pressing about 4-5 keys at the same time. In addition, to check if we can really press a greater number of keys, there is nothing better than resting the palm of the hand on the alphanumeric area and seeing what appears on the screen. The result: 96df50y47erbi8.
According to the ergonomicssay that with the wrist rest is awesome, because being quite high and very soft the filling, we rest our hands and we will not notice fatigue after hours using it. Maybe to play is a less optimal position and we have to remove it to make faster movements, but it will be a matter of taste.
conclusion
The new Razer Blackwidow Elite It represents a slight renovation on a keyboard that needed little else, but that gives it a couple of highlights that other brands already had. On the one hand, it incorporates a wheel for volume control and some media keys. For another, USB ports and TRRS jack to bridge the sound to the keyboard itself. If we add to this that it maintains the excellent Razer Mechanical Switches and the Chroma lighting that allows you to light it up 16.8 million colors to each of the keys, we are before one of the best keyboards that we can find in the market.
The current price of this keyboard is 505 soles, which, in our opinion, is the only disadvantage in that it has a slightly high cost, although due to its characteristics, and due to the similar prices of its closest rivals, we are sure that worth. What do you think?
Main advantages

+
Razer Green / Yellow / Orange Mechanical Switches
+
Exceptional lighting possibilities (Chroma)
+
Dedicated media keys and multifunction wheel
+
Anti-Ghosting 10-Key Rollover
+
USB y Jack TRRS Passthrought
+
Includes padded wrist rest, very comfortable
Negative aspects

-
somewhat high price
Other Aspects

*
Razer Synapse 3 Configuration Software
Source: Elchapuzasinformatico.com 
Since 
Blizz Store Peru We give you a score of

4.8 of 5
 to the keyboard
Razer Blackwidow Elite with yellow switches.
junio 12, 2021

Category:

News
Comment: 1